Industrial Design Portfolio
Hello!
I am an Industrial Designer with a Bachelor's in Fine Arts from Rochester Institute of Technology. These are four projects I've chosen that exemplify the work I want to continue doing.
The technology we use every day is built on an array of hidden elements engineered to compete for our attention and keep our eyes glued to our phones and devices.
Solution
A series of games educating users on the addictive mechanics found in modern technology.
Design and fabricate the physical aspects of the Oversight exhibit, as well as photographic documentation of the project.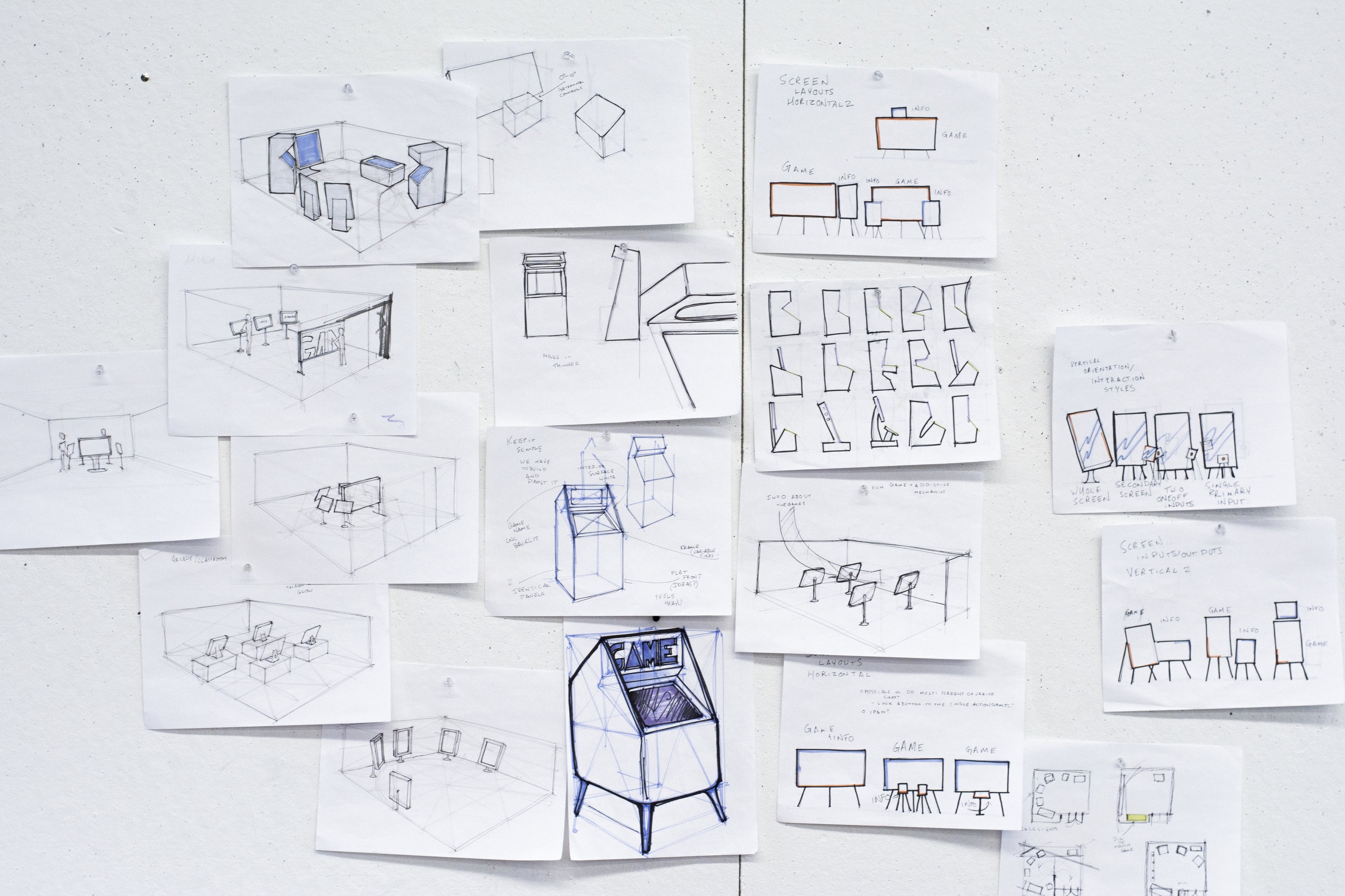 Early on, the team decided to create an arcade to display these games, but we didn't quite know what the room would look like, or what the arcade cabinets would be. So I got to sketching.
Refinement and Construction
Oversight went on display during Rochester Institute of Technology's annual campus-wide innovation and creativity showcase.
Our exhibit included games, mechanically driven to expose the addictive nature of social media, complete with takeaways, posters, and extra info.
Slots
Virtual slot machine designed to call attention to the mechanic of intermittent variable reward.
Maze
A digital metaphor showcasing the illusion of choice, wherein apps only offer you choices they can profit from.
Panels
A virtual representation of the division of attention, to keep the user busy and stuck in a screen
Bubbles
The points don't matter in this bubble popper, just like the competition built into apps with follower and like counters.
This didn't end after Imagine RIT. The project, along with our development blogs and extra information, live over at www.oversight.games.
Personal Takeaway
This was a wonderful opportunity to work on a team as the sole Industrial Designer. Rapidly sketching, and using them a discussion in the design process was exciting, and bouncing my ideas off designers in separate disciplines was refreshing.
Furniture Design in Scandinavia
Study Abroad in Scandinavia
In 2016, I was given the opportunity to study in Copenhagen to learn about Scandinavia's design history, and leverage that knowledge to build a beautiful chair that can live on its own.
There was a lot to learn. Ikea headquarters, Paimio Sanatorium, Republic of Fritz Hansen's facility, PP Moebler, nearly every design museum in Stockholm, and more than a handful of showrooms across Scandinavia were more than enough to immerse me in the centuries-deep culture of design in Scandinavia.
After two weeks spent touring Sweden and Finland to learn and gain inspiration, it was time to sketch. Another two weeks later, I had mapped out all the cuts, lengths, joints and weaves, and was ready to start building.
Ten days, three meters of maple, 120 holes, and more hours of weaving paracord than I care to count, I was finished.
Design
Navnløs is incredibly strong, supporting well over 250 pounds, while only weighing in at 16 pounds. The woven grid of the chair is designed to serve a user wrapped in a blanket, but also allow for high airflow, in order to reflect the huge temperature shifts in my non-air-conditioned apartment back home in Rochester.
I very much enjoyed my time in Copenhagen. The chair was an expression of my desire to create a functional chair with an interesting twist, or weave, as it were. But the real value of this project was the depth of the research involved, and the culture in which I found myself immersed. I hold Copenhagen, and the global perspective it gave, very dear.
What is Metaproject?
An annual collaboration between students, and a real-world design firm aimed at bringing a semester of design work out of the studio and into the world.
Metaproject 08's collaboration would be with Chuck Cerankosky's 'Restaurant Good Luck'. A one-night-only pop-up experience titled Designing Dining, celebrating and showcasing the design process via the dining experience.
The scale of this project meant it could not be something that could be undertaken by any one design student. The seventeen designers were split into teams, for the specific aspects of the evening.
Understanding Dining
These teams were responsible for categories: from messaging the evening to the after dining experience. Once a theme of the four seasons was selected, the individual teams could move forward in developing their specific aspects of Designing Dining.
Each course would reflect this idea of seasonality. However, the food wouldn't be the only thing changing with the season, and each team was tasked with incorporating transitions into their goals for a designed experience.
My roles were documentation, promotion, project management, and storytelling.
I was tasked with document the development of the event, creating the invitations sent out to the many guests, and the design of the entry into the restaurant.
Designing Dining was a complete success. Sixty guests, four courses, and a semester's worth of prep: the staff of Good Luck and the seventeen designers were ready to showcase our work.
Event photos by Elizabeth Torgerson-Lamark. Course plan and design by Nora Manzella and Elizabeth Rintels.
ICFF 2018
Metaproject 08 didn't end on December 18, 2017. Each Metaproject goes through a documentation and publication phase to communicate the project to a larger audience, and I was asked to write a forward in the project book along with another designer in the class, Elizabeth Rintels.
I also traveled to New York City during Design Week NYC to show and explain the projects to visitors of the Metaproject 08 booth at ICFF 2018.
This was a tough project for me as a predominately physical designer. However, I found myself loving the teamwork, and restaurant/event design as a whole.
The complexity and pressure of designing for a specific time and date is a challenge I'm eager to pursue.
Senior Capstone in Seating
Initial Problem Statement
I will understand why people might feel at a loss in conversations, and address their issues with an intelligent system based in a seating platform.
Research and Users
I needed to understand how and why conversations might not be all they can be. A survey, a few weeks in the library, and a moodboard helped me to understand who I was going to make this for.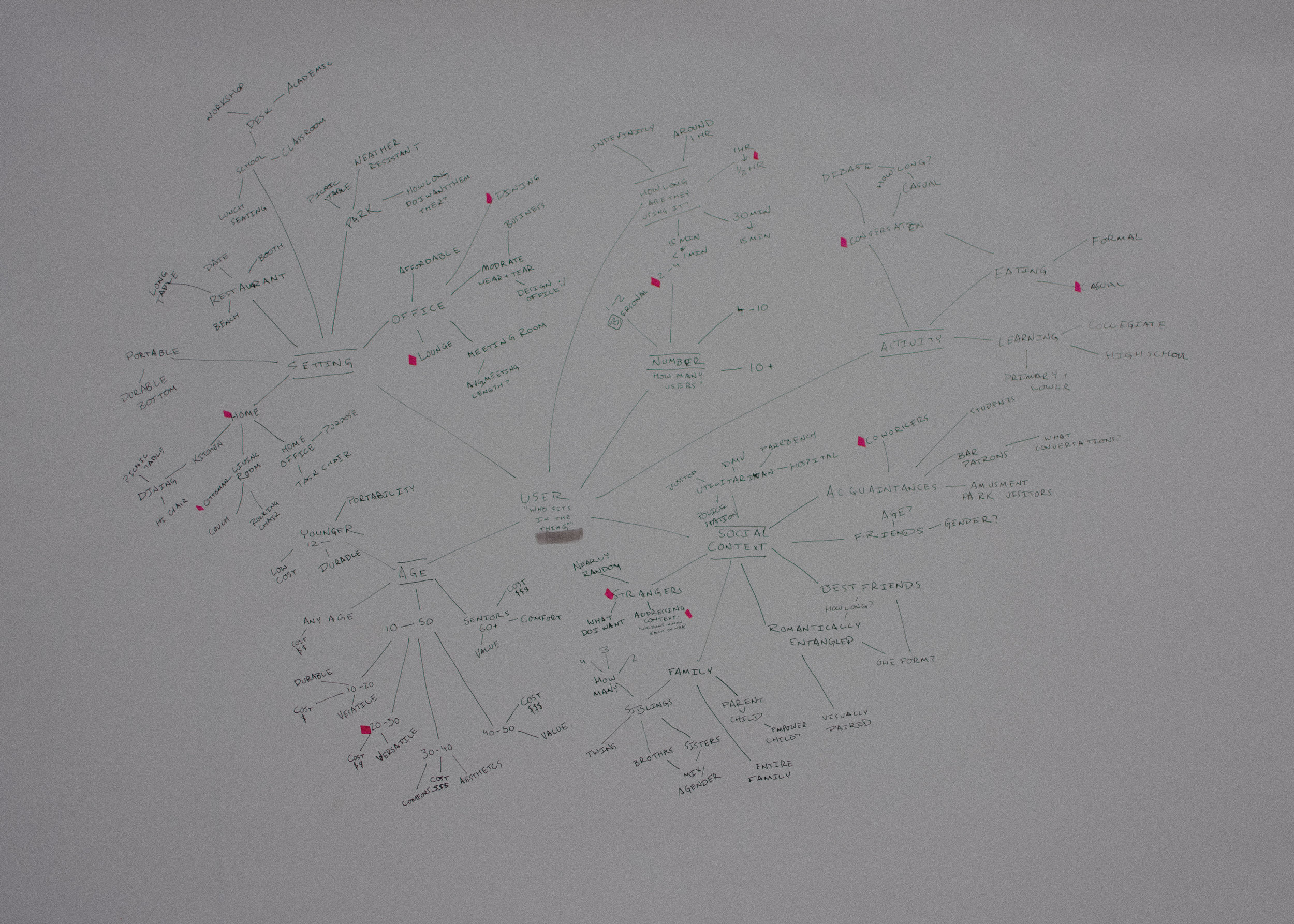 My environment and users would be the students, staff, and guests of any university campus.
My research indicated that I wouldn't be able to force humans into having better conversations, but light touch, passive 'nudges' could help me get people talking to each other.
The other big thing that stood out from my research was the impact of props. Humans who find themselves lost in a conversation will fall back on any interactive thing they can find.
Further Development Needed
My initial round of development was productive, but the resulting pair of concepts were well beyond what I could feasibly construct.
A second round of refinement updated my problem statement, narrowed the form, and took into account manufacturability.
Design and fabricate a seat that nudges its users into interacting with each other.
Co-op Bench rocks when you sit down, encouraging more than one user, and cooperation from said users. If you're sitting solo, or don't want the seat to rock, the chair splits apart into three separate seats, or reconfigures into a bench that rests flat.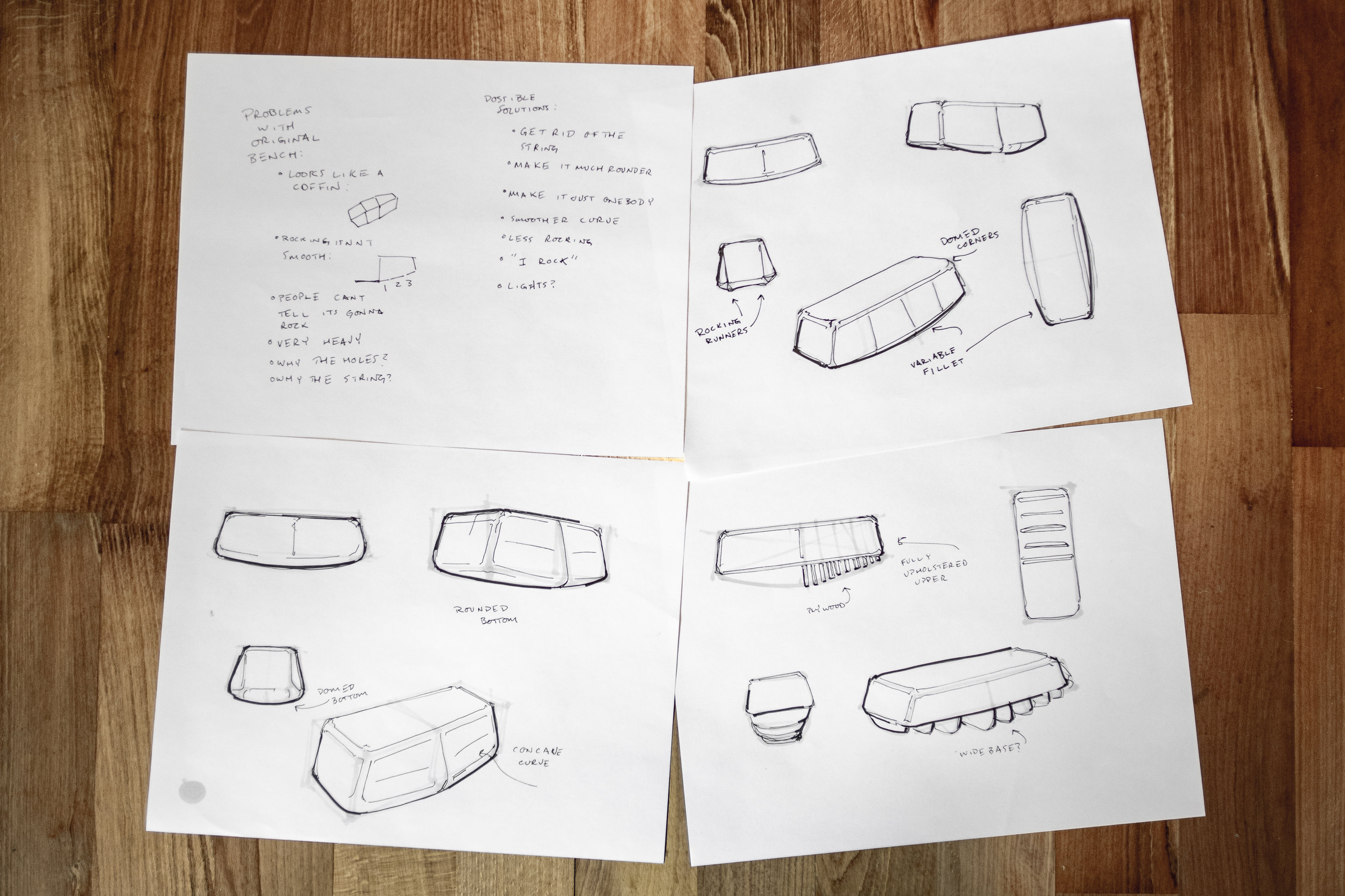 This was a personal project, started because I wanted to leverage my passion for furniture and my proclivity to talk a lot.
I also consider it a sort of failure. I'm happy with the final product, but I know that it can be better. So, I continue to consider and mull over possibilities to improve this concept.
This might be the end of the design portfolio, but the rest of my site is still up there at the top of the screen, begging to be explored. Thanks for taking the time to read through my portfolio.